Plastic Overshoot Day marks the point when the amount of plastic waste generated exceeds the world's capacity to manage it, resulting in environmental pollution. In 2023, the global Plastic Overshoot Day is projected to occur on July 28th.
Each country has its own Plastic Overshoot Day, which is determined
by the amount of plastic waste generated and the country's capacity to manage it. To facilitate targeted and effective solutions, ten country archetypes have been established, enabling the profiling of countries based on factors such as local per capita plastic consumption, the import and export volumes of waste, and the country's waste treatment capabilities. By considering these archetypes, we can present recommendations tailored to each country's unique circumstances.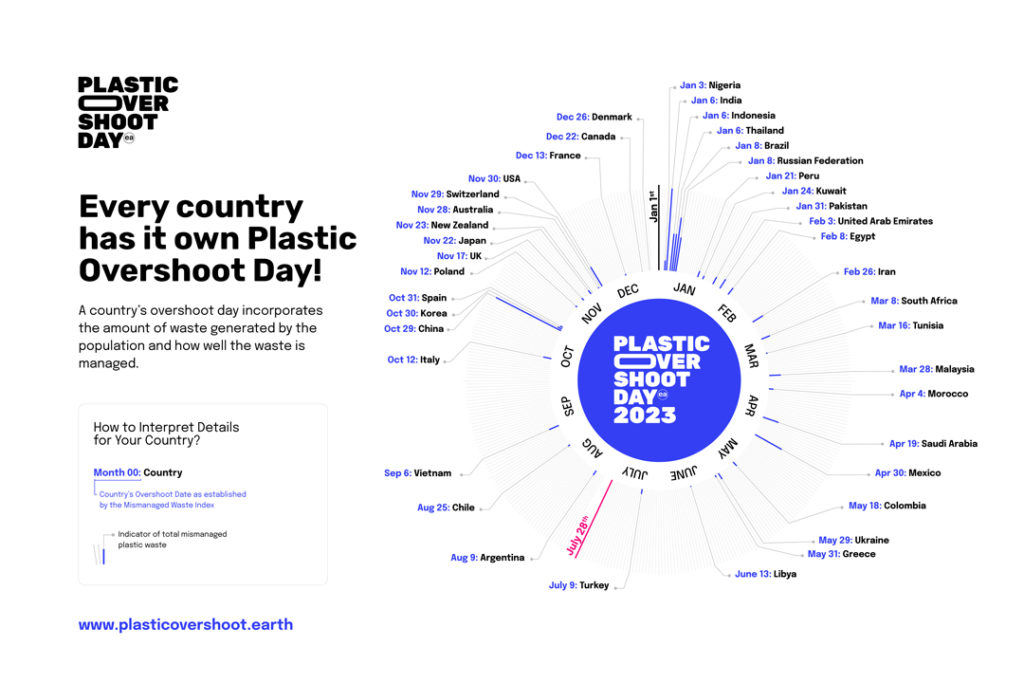 This report provides a full assessment of the contribution of plastic pollution worldwide. It is based on the baseline year 2023, with a global plastic production of 159 Mt, that was distributed across different country archetypes. The intention of this research is not to criticise the countries waste management, but to increase the level of knowledge and awareness of the issue, so as to pave the way towards a better managed plastic system.
Key-Highlights from the report:
For 2023, Plastic Overshoot Day is projected to occur on July 28th, marking the point when plastic waste produced will surpass the capacity of the planet's waste management systems.
Currently, 40 percent of the world populations lives in a location where the generation of plastic waste has surpassed local waste management system capacity.
10 archetypes have been defined by report-publisher EA – Environmental Action, to help readers understand how country fits in the plastic waste management ecosystem, with associated recommendations tailored to each archetype's unique circumstances.
In 2023, 68,642,999 tons of plastic will end up in nature due to the imbalance between the volumes of plastics consumed and the capacity to manage the plastic at the end of its life.